About
Dutch Invertuals is a design studio that aims to inspire positive change with design, unconstrained by 'the way things are done'. We bundle creative thinking and initiate projects to navigate the unknown.
STUDIO
From our Eindhoven-based studio, we work on a wide range of spatial and strategic design projects for clients and partners across sectors. We turn research into tangible products and experiences.
FOUNDATION
Together with our international collective, we initiate annual research projects exploring emergent cultural and social themes to understand and envision the world of tomorrow.
ACADEMY
Dutch Invertuals Academy is an online program for young professionals from all around the world interested in developing their skills and career, guided by expert from the Invertuals network.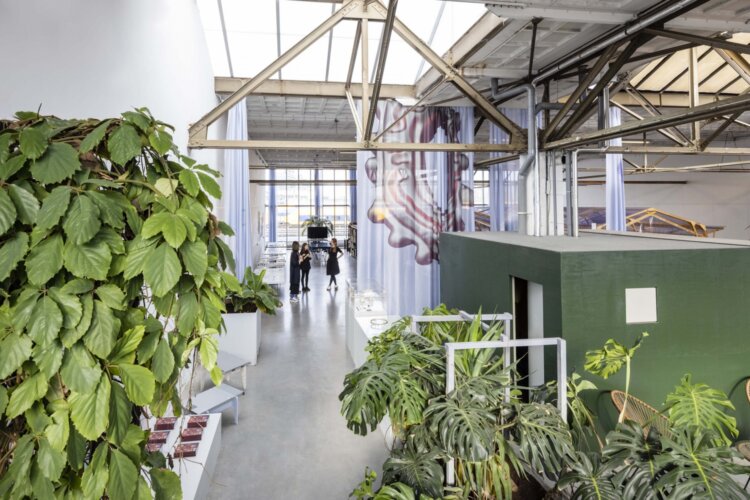 TEAM
Our in-house team is guided by founder and design director Wendy Plomp. She analyses our culture and time we live in and bring designers together to explore the unknown.

Wendy Plomp / design director, founder
Elena Genesio / designer, researcher
Pascale Theron / project manager
Esther Severijns / foundation manager
Each designer in our network brings a different set of skills and expertise, driven by an unstoppable urge to create and innovate, to experiment, and redefine. This collective dynamic defines Dutch Invertuals.
Aliki van der Kruijs
Alissa + Nienke
Amandine David
Anna Resei
Arnout Meijer
Audrey Large
Aya Kawabata
Baiba Soma
Bart Hess
Bastiaan de Nennie
Béla Bezold
Bram Vanderbeke
Carlo Lorenzetti
Christian + Jade
Christoph Dichmann
Clara Schweers
Dae Uk Kim
Daniël de Bruin
Daphna Laurens
Delphine Lejeune
Dienke Dekker
Dorian Renard
Earnest Studio
Edhv, architects of identity
Eefiene Bolhuis
Elly Feldstein
Emilie Pallard
Emma Wessel
Fleur Hulleman
Fransje Gimbrère
German Ermičs
Harm Rensink
Hongjie Yang
Jelle Mastenbroek
Jelle van Twillert
Jeroen Wand
Joachim & Moreno
Johan Viladrich
Johanna Seelemann
Jólan van der Wiel
Juliette Warmenhoven
Kirstie van Noort
Laura Lynn Jansen
Léa Baert
Lex Pott
Marlou Rutten
Martens & Visser
Max Lipsey
Michael Schoner
Mike Roelofs
Mila Chorbadzhieva
Milou Voorwinden
Mirjam de Bruijn
Moonseop Seo
Nel Verbeke
Niek Pulles
Niels Heymans
Nina van Bart
Noman
Odd Matter
Officina Corpuscoli
Olivia De Gouveia
Onno Adriaanse
OS ∆ OOS
Paul Heijnen
Pepe Heykoop
Philipp Weber
Ralf Gloudemans
Raw Color
Rogier Arents
Roos Gomperts
Roos Meerman
Roxane Lahidji
Sabine Marcelis
Sander Hagelaar
Satomi Minoshima
Scheublin & Lindeman
Schimmel & Schweickle
Shahar Livne
Sigve Knutson
Sorrel Madley
Steeven Macal
Stine Mikkelsen
Studio Mieke Meijer
Studio Truly Truly
Teresa Fernández-Pello
Théophile Blandet
Thomas Ballouhey
Thomas Vailly
Thomas van der Sman
Tijmen Smeulders
Tijs Gilde
Tim Enthoven
Victoria Ledig
Wendy Andreu
Willem van Hooff
Xandra van der Eijk
ZwartFrame
We work with a range of different clients across sectors.
5Tracks
Brainport
Bijenkorf
C2 curatorsquared
Darran
DDF
Domus Dela
Droomparken
Franklin Till (collab)
Future Laboratory (collab)
Hermès
Het Nut
High Tech Software Cluster
Hilversum Museum
Kazerne
Luxaflex
MAKK Museum of Applied Arts, Cologne
ProRail
Samsung
Selfridges
What If Lab
Studio
5Tracks interiors
Hermès window display
Het Nut interiors
Darran chair design
Darran Room Dividers
Bijenkorf installationon
ProRail concept and campaign
Tiny Offices
High Tech Software Cluster interior
Brainport interiors
Selfridges window display
Design Transfigured / Waste Reimagined
Enlightened x Luxaflex
Brainport exhibition
Domusdela
Foundation
Flow
Objects for a New Kind of Society:
The way we work
Expedition Æqualis
The Circle
Objects for a New Kind of Society
Mutant Matter
Take Away
Harvest
Fundamental
Power Play
Advanced Relics
No Static
Body Language
Happy Future
Cohesion
Transform
Revaluate
Untouchables
Foam
Lead
Academy
Wood Land exhibition
Woodland Residency
True Matter program
Jobs
We are looking for a junior designer send us an email with your cv and portfolio to studio@dutchinvertuals.nl
We zoeken per direct een junior projectmanager ter versterking van de studio. Je bent een regelaar, budgetbewaker en prioriteitensteller die elke weg binnen de projecten weet te vinden. Samen met de studio ben je verantwoordelijk voor het succesvol ten uitvoer brengen van projecten. Heb je interesse mail je motivatie en cv naar studio@dutchinvertuals.nl
Invertuals
We are always on the look out for invertuals to join the collective.
To apply send us an email to studio@dutchinvertuals.nl
Interns
We host quarterly internships
to apply email studio@dutchinvertuals.nl